Authorization with Ruby on Rails 4.2
Watch the video of this screencast on YouTube (10:27 min).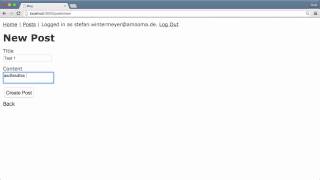 In the last screencast I created an authentication system for a vanilla Ruby on Rails 4.2 application. In this screencast we will add basic authorization to it.
A basics blog
We are going to create a blog application. Any logged in user will be able to create new posts. Posts can be edited and destroyed by the user himself but not by anybody else.
Create the Rails application
Please visit the Authentication Screencast and create a new blog application the same way. You should be able to create a new account and log into that account. A current_user method and a current_user helper should be available.
Post Scaffold
We start with a Post scaffold.
Because we render the flash messages in application.html.erb we can delete them in the following files:
app/views/posts/show.html.erb
app/views/posts/index.html.erb
The Post model needs a couple of validations and a to_s method:
app/models/post.rb
And the User model needs a has_many association to the Post model:
app/models/user.rb
Because we'll take care of the user_id attribute in the controller we can delete the following code in the Post form:
app/views/posts/_form.html.erb
And because we will not send the user_id through the form we can remove that from the post_params method in the Post controller too:
app/controllers/posts_controller.rb
Lastly we have to change the create method in the same controller to build a new post with the current_user.posts.build:
app/controllers/posts_controller.rb
For easier navigation I'll add two links to our navigation.
app/views/layouts/application.html.erb
Now a user can create, edit and destroy a post. But unfortunately any user can edit any post now and even somebody who is not logged in at all could edit and destroy a post.
We need authorization to fix that.
before_action :authorize
We create a private authorize method in the Post controller and trigger it with a before_action. Because we don't need it for the index and show views we can except those.
app/controllers/posts_controller.rb
Links in the view
Obvioulsy it doesn't make any sense to show a link to a person who is not logged in. A couple of if clauses and the current_user helper will fix that:
app/views/posts/index.html.erb
After that we'll do the same in the show view.
Now you are good to go. Have fun with your new authorization system!
Alternatives
Please have a look at ruby-toolbox.com for a detailed list of available authorization gems. Do not use cancan because that is not longer maintained! cancancan seems to be a good alternative (but I've never tried it). Many people like Pundit.